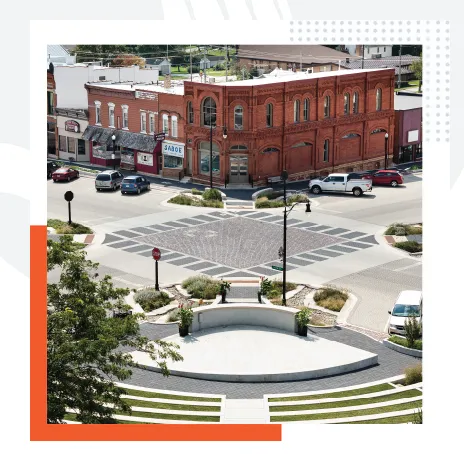 When we care for humans and our environment, communities thrive. Landscape architecture uses proper planning, design and management to balance projects that improve quality of life while preserving the natural surroundings. Choosing the right landscape architecture professionals to help transform your space can ensure successful environmental, socio-behavioral and aesthetic outcomes.
Fehr Graham's team of experienced professionals understands the challenges of landscape architecture projects. Our multidisciplinary team collaborates with leaders to develop the vision for a space so we can incorporate elements of art, environment, architecture and engineering into quality landscape architecture services.
We're more than an engineering and environmental consulting firm.
Fehr Graham's landscape architecture services
At Fehr Graham, we are committed to designing with care and planning with insight. Our landscape architecture team includes engineers and environmental specialists who work with you to create a tailored vision for your next project. From parks to rooftop gardens and everything in between, we transform spaces.
Our landscape architecture services include:

Planning
Adaptive Reuse
Master
Streetscape
Urban

Design
Athletic Fields
Corporate
Environmentally Friendly
Healthcare
Parks and Recreation
Streetscape
Urban
Communities who have benefited from our landscape architecture services
Fehr Graham works with urban communities across Illinois, Iowa, Wisconsin and beyond to transform the landscape with environmentally-friendly architectural designs.
Learn more about who we serve.
Fehr Graham's landscape architecture services help you reimagine and redevelop the land in and around your community to make it a meaningful place with aesthetic appeal that accommodates the needs of the residents.
Fehr Graham is your answer to everything about landscape architecture. Contact us to learn more about our landscape architecture engineering services or call us at 217.352.7688.