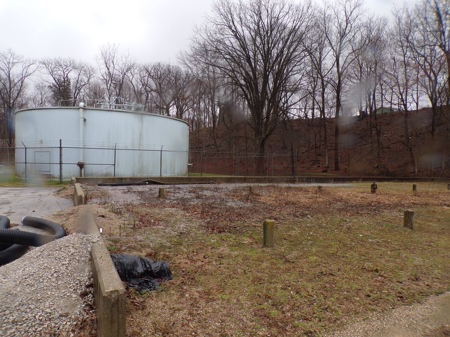 There was more to celebrate in Catlin today than the announcement of a $10.3 million project to improve the Village's aging Wastewater Treatment Plant. And that was how the project will be funded.
The United States Department of Agriculture (USDA) Rural Development office approved an $8 million loan and a $2.3 million grant to reduce the financial burden on the Village's nearly 2,000 residents to pay for the improvements.
Dozens, including U.S. Rep. John Shimkus (R-Collinsville) and USDA Rural Development State Director Doug Wilson, commended Village officials for committing to improving the plant and staying in for the long haul as they pursued funding options.
"The $2 million grant. The $8 million-plus loan. We like it, too, because it keeps the local community's skin in the game," Shimkus said today at Catlin Village Hall. "You have to make tough decisions for a community of this size to do what you need to do. It's a tough one, but it has to be done. We're glad we could be helpful."
In 2016, Catlin hired Fehr Graham Engineering & Environmental to prepare a facility plan which detailed problems with the plant, which was built in 1977 and partially upgraded in 2001. The Village needed to make significant improvements to the plant to remain compliant with Illinois Environmental Protection Agency standards. Fehr Graham designed those upgrades and helped the Village get funding for the project.
The upgrades will address safety concerns, improve efficiency, reduce energy consumption and add flexibility to increase the plant's reliability.
"We are very excited for and proud of the village as it embarks on the completion of a project that has been planned for several years but lacked the appropriate financing to make it affordable for its residents," said Matthew Johnson, one of Fehr Graham's owners and lead engineer on the project. We want to credit and thank the USDA, Congressman Shimkus and (state) Representative (Mike) Marron (R-Fithian) for their efforts to make this important and necessary project a reality."
Construction is expected to start in October and be finished in fall 2020.
News coverage
The News-Gazette of Champaign (March 29, 2019)
Catlin gets grant, loan to ... by Fehr Graham