Are you familiar with the U.S. Environmental Protection Agency (EPA) Lead and Copper Rule Improvements (LCRI)?
What are the implications for lead and copper rule revisions?
How do the revisions help protect your community from lead exposure in drinking water?
Since its 1991 publication, the Lead and Copper Rule (LCR) has undergone several revisions, adapting provisions and guidelines to control lead and copper levels in drinking water. Below, we discuss key points and limitations of LCR, revisions that address limitations and how to comply with EPA rules and replace lead service lines in your community.
Lead and copper rule: key points
Plumbing lines are the primary path of drinking water contamination by heavy metals like lead and copper. Because exposure can cause a range of health problems, the LCR mandates that water systems monitor drinking water at customer taps to detect contamination.
A water system's action level measures the efficacy of corrosion control treatment, which is the preferred method of controlling lead in drinking water. Corrosion control involves chemically treating water to reduce corrosion and immobilize lead. If customer water samples reflect action-level exceedances of lead and copper, water systems must act to reduce the public threat of exposure.
With an action level exceedance of 15 parts per billion for lead or 1.3 parts per million for copper in more than 10% of customer samples, water systems must take additional action to control corrosion.
Differences between lead and copper concentrations in drinking water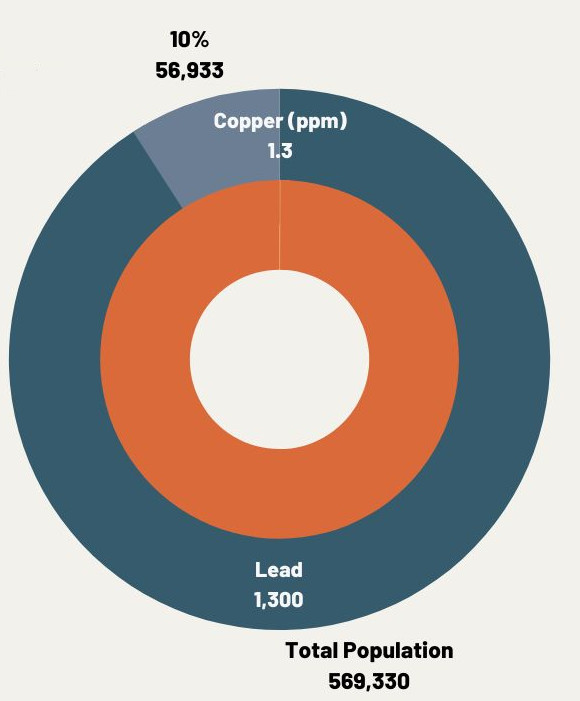 Milwaukee, Wisconsin

Total population:
569,330

10% of population: 56,933
Copper levels are measured in milligrams (mg) per
liter to calculate concentration as parts per million (ppm).
Lead
levels are measured in much smaller units of
micrograms —1/1,000th of a mg — per liter to calculate
parts per billion (ppb).
Optimizing corrosion control: Water systems that serve communities of 50,000 residents or more and have not fully optimized their corrosion control should take further steps to strengthen their corrosion control treatment.
Educating the public: Water systems can educate consumers about the risks of lead service lines and what action they can take to reduce their exposure to lead.
Replacing lead service lines: Water systems should replace all lead service lines under their control to reduce the risks of lead leaching into drinking water.
Lead and copper rule limitations and revisions
The LCR's limitations expose children and communities to risks of irreversible, life-long health issues from drinking water contaminated with lead. The sections under revision include:

Action level exceedance: Water systems only implemented treatment techniques when lead or copper concentration levels exceeded action levels. This level is based on available data on corrosion control and not on public health effects of lead or copper exposure. In addition to omitting public health statistics, exceeding the action level is not a violation in itself. Instances of exceedance led only 1% of utilities to replace lead pipes.
Prolonged duration to establish corrosion control: After exceeding the action level, the LCR allowed 48 months to pass before a water system implemented corrosion control measures with no follow-up testing required. This oversight left children in elementary schools and childcare centers vulnerable to lead exposure after corrosion control measures had been executed, but not verified.
In December 2021, the EPA announced its intent to
strengthen the LCR
and protect children and communities from the adverse effects of lead in drinking water.
The Lead and Copper Rule Improvements (LCRI) is the first major update to the EPA's Lead and Copper Rule in nearly 30 years.
The table below details some key revisions to the LCRI and their implications.
Revisions to EPA Lead and Copper Rule

REVISION
IMPLICATION
Employ science-based testing.

Science-based testing protocols can accurately locate more drinking water sources with elevated lead levels.

Establish trigger levels.

Trigger levels help communities initiate earlier mitigation strategies.

Encourage more complete
lead service line replacements.

Partial service line replacements may increase lead levels in drinking water if they disturb lead-bearing pipe scale — the build-up of minerals coating pipe interiors.

Mandate testing in elementary
schools and childcare facilities.

Testing drinking water in elementary schools and childcare facilities protects vulnerable residents.

Publicize lead service line locations.

Water systems can help increase public awareness and education on lead service lines.
For municipalities, lead and copper rule revisions are designed to help identify the most at-risk communities and encourage more lead pipe replacement initiatives with the help of federal funds. Partnering with an experienced team of water engineers can make it easier for communities to navigate this process.
Working with water engineers to replace lead service lines
At Fehr Graham, we have helped communities secure more than $30 million in lead service line replacement funding and have replaced more than 2,000 service lines for municipalities. Our team of experienced water engineers is committed to upgrading aging water infrastructure through federal funding, investigating lead service line locations and developing plans for lead service line replacement to ensure access to quality drinking water in communities across the Midwest and beyond.
To learn more about Wisconsin lead service line replacement and how Fehr Graham can help your community secure funding to replace lead water service lines, contact us or give us a call at 608.329.6400.
Jennifer Buholzer, PE, is a Project Engineer who works on everything from water and wastewater projects to transportation and park projects. She develops relationships with our clients to help them find the most affordable and sustainable solutions. Jen is knowledgeable, results-driven and enthusiastic, offering training and webinars and serving as a conference speaker at dozens of events annually. Reach her at

This email address is being protected from spambots. You need JavaScript enabled to view it.

.