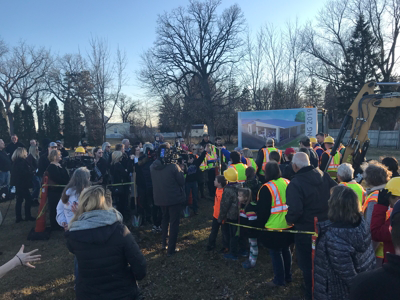 A celebrity brought the spotlight to Rochelle and to a woman whose mission is to help those in need.
Mike Rowe, host of "Dirty Jobs," heard about Carolyn Brown's community cafe, The Kitchen Table, and wanted to feature the pay-what-you-can restaurant and its champion on his new Facebook series, "Returning the Favor." The episode aired on Monday.
Brown put her life savings into The Kitchen Table as a way to give back. She said on the show that she spent her earlier years focusing on the wrong things.

"You put too much emphasis sometimes on material belongings, and that's really not what life is supposed to be about," Brown told Rowe during his visit.

Moved by the generosity of Brown, who with several volunteers prepares and serves 700 meals each month, Rowe came to Rochelle in March to surprise her with $50,000 for an addition to the restaurant at 7034 Klondike Road. The addition was slated to be completed in July, but the project was pushed back. It is expected to start in late summer with hopes the expansion is done in October. The beauty of the restaurant is customers come from all walks. Some can't pay. Some pay a little. And others pay more than the suggested "price." Rowe talked to patrons who at one time had eaten at the restaurant after losing jobs and now are returning the favor, just like the name of the show.
"What you're doing here is great," Rowe said. "If we can get more people to see it and follow in your footsteps, well we've got a whole new ballgame."

Rowe's team worked with Fehr Graham, an engineering and environmental firm with an office in Rochelle, on the addition's conceptual and landscape design. The outdoor space will increase seating at the restaurant that opened in 2016. Fehr Graham donated professional services to the project. Noah Carmichael, one of Fehr Graham's seven owners, and Dylan Schroeder, landscape architect, attended the unveiling of the design for the outdoor expansion.
"I love you all," Brown said after seeing the rendering. "I love everybody."
News Coverage:
Rochelle News-Leader
Sauk Valley News
The Kitchen Table
Q98.5 Rockford
The Ogle County Life
Fox 39
Rockford Register Star
Carolyn Brown-Mike Rowe Roc... by Fehr Graham